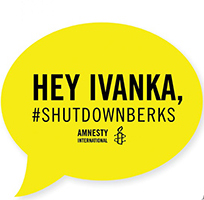 Candles, birthday cake, presents, friends and family. That's what every parent hopes for their child's birthday. Instead of festivities, Tomás spent his eighth birthday behind bars—for the second year in a row. The reason why? Because Tomás and his mom were jailed in the only place in the country where you can hold a child who has never committed a violent crime for over 600 days: Berks Country, PA.
Tomás and his mom, Natalia, are amongst at least 60 other moms, dads, and children who were locked up after seeking safety in the United Sates, though they fled from violence in their home countries.
Together we can shut down Berks. Take action now.
Today, we're calling on Ivanka Trump to join us in the fight for kids like Tomás. Ivanka campaigned for her father on a commitment to support kids and mothers—shouldn't that include all kids—even the ones at Berks?
Tell Ivanka to help the kids at Berks.
We all share a responsibility to help people who have lost everything, and to give them a chance to rebuild their lives safely the same way all of us would need to if we were in this horrible situation. That's why Amnesty International is fighting to ensure that people who fled to the US seeking safety have a fair shot at it.
A fair shot never happened for Tomás, whose real name we're withholding for his safety. After hundreds of days behind bars—where he suffered PTSD and his weight shrank to just 40 pounds—he and his mother were deported without ever having a chance to fully make their case for asylum. They face extreme danger, perhaps even death. We can't let that happen again.
Take action to help the kids at Berks now.
Thank you for taking action.
Naureen Shah
Senior Director of Campaigns
Amnesty International USA
#SHUTDOWNBERKS